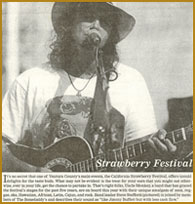 It's no secret that one of Ventura County's main events, the California Strawberry Festival, offers untold delights for the taste buds. What may not be evident is the treat for your ears that you might not otherwise, ever in your life, get the chance to partake in. That's right folks, Unkle Monkey, a band that has graced the festival's stage for the past five years, are on board this year with their unique amalgam of soca, reggae, ska, Hawaiian, African, Latin, Cajun and rock. Band leader Steve Stafford (pictured) is joined by members of The Bonedaddys and describes their sound as "like Jimmy Buffet but with less cash flow."
Top | Back to Bio Page | Home
---



All materials ©2006 Steve Stafford / Unkle Monkey Music. All rights reserved.
This Web site designed and maintained by Red Hare Graphics.