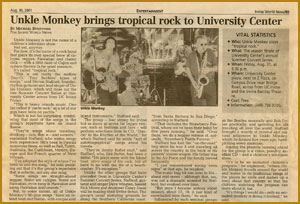 Unkle Monkey is not the name of a children's television show.

Not yet, anyway.

For now, it's the name of a rock band that plays its special brew of calypso, reggae, Hawaiian and classic rock - with a little dash of Cajun and zydeco thrown in for good measure.

It's called "Tropical Rock."

"This is not really the mellow 'Day-O,' 'Tiny Bubbles' types of songs," says Steve(n) Stafford, founder, rhythm guitarist and lead singer of Unkle Monkey, which will close out the free Summer Concert Series at University Center across from UC Irvine Friday.

"This is heavy Islands music. One fan called it 'yacht rock,' as a lot of our gigs have been on yachts."

Which is not surprising, considering that most of the songs in the group's repertoire have an island theme.

"They're songs about travelling, drinking - rum, that is - and sunsets," explained Stafford, who writes songs from experience. He's been to Hawaii numerous times, as well as Bali, Tahiti, Australia, the Carribean, Mexico, Europe and the French quarter of New Orleans.

"I've adapted the style of where I've been to into the song," he said, pointing out that it's the group's repertoire that is eclectic, not any one song.

"Some songs are straight-ahead reggae. Some are calypso. Some are Hawaiian, even sung in Hawaiian and using Hawaiian instruments."

But, to some extent, all of Unkle Monkey's 60-plus songs "have an island beat and theme, with congas and island instruments," Stafford said.

The group - four strong for Irvine but as many as seven for bigger venues, such as festivals and fairs - will perform selections from its CD, "Dancin To The Rhythm of The World," for which Stafford said he wrote "sort of autobiographical" songs about his travels.

"They're Jimmy Buffet stuff," said Stafford, who, like Buffet, had been a sailor. "He plays some with an island beat, other songs of his rock, but all have to do with the life of a beachcomber. It's escapism."

Unlike the other groups that have preceeded them in Universty Center's Summer Concert Series, Stafford, guitarist and singer Dave Winston, bassist Rick Moors and drummer Casey Jones will be making their Irvine debut. The group's usual stomping grounds lie along the Southern California coast, "from Santa Barbara to San Diego," according to Stafford.

"That includes the Strawberry Festival, where we've been their band for five years running," he said. "Over there we do a reggae version of, naturally, 'Stawberry Fields Forever.'"

Stafford has had the "on-the-road" bug since he was 3 and travelling across the country in the back of his parent's station wagon. His father was in the Air Force and the family moved frequently.

"I just remembered seeing neon signs" at that age, he recalled.

The music bug bit him later in life - about mid-teens - although that, too, was not the dramatic moment for Stafford, but evolved over time.

"But once I became serious about (music), about 17, 18, it just kind of snowballed from there," he said.

Influenced by such seminal groups as the Beatles musically and Bob Dylan poetically, and spending his 20s travelling all over the world, Stafford brought a wealth of musical and cultural influences to Unkle Monkey, which he formed five years ago, hand-picking every musician.

Among the projects looming ahead for the group is a video, possibly another CD - and a children's television show.

"It's to be an animated children's program," he explained, "where Unkle Monkey travels around the world and learns to do traditional songs of the places he visits and makes up a song about that country so that the children watching the program can learn about it, too.

"It's things I would do - only an animated monkey is doing it instead," he said.
Top | Back to Bio Page | Home
---



All materials ©2006 Steve Stafford / Unkle Monkey Music. All rights reserved.
This Web site designed and maintained by Red Hare Graphics.